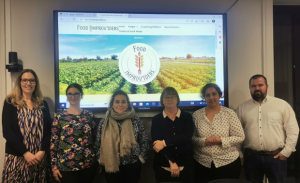 The second project meeting within the project
Provide producers with fit-for-purpose knowledge to develop new sustainable food chain models improving their revenue and enhancing consumers' satisfaction – Foodimprov'iders
, Project No 2020-1-FR01-KA204-080640 was held in 
Paris, France
 on November 21, 2022. The meeting was hosted by the project coordinator 
ANIA
and all project partners were represented.
An overview of the task list consisting of the conducted activities since the partner meeting in May was made, then all participants had the opportunity to present, discuss and analyse the work on WP3: Offline and online implementation of training contents and WP4: Optimisation of the training content and of the education provision.  Special attention was paid to the communication and dissemination activities. The progress on the website elaboration was presented and the structure, content, and different segments were briefly discussed.
The second day of the meeting continued with a discussion on the methodology for the optimisation of the training content and a workshop on the communication and reporting strategy.
Overall, the meeting was very productive and touched upon the most important topics concerning the Foodimprov'iders partnership and preparation for the testing activities to be carried out in the next few months. The next transnational meeting was set to take place in March 2023 in Hungary where partners will discuss the remaining tasks by the end of the project.